BQAN 1 Pc Kolinsky Sable Hair Acrylic Nail Art Brush #2/#4/#6/#8 Manicure Nail Art Tool
Brand: BQAN
1)Material: Rhinestones handle, kolinsky sable hair; we also can make with wooden handle and acrylic handle.
2)Brush Size: #2/#4/#6, you can purchase the one you need. We can make from size #2 to size #24
3)Package:1 PC / Pvc tube
4)Color: Black
5)Service: OEM / ODM
About the Product: 100% Brand new and high quality.
Non-deformation and non-corroding, durable for longer use.
Comfortable and easy to handle.
Perfect for home use and professional nail salon.
Please Note: Wash it carefully after use, keep it clean and safe for reuse!
Manual measurement, allowing the presence of 0.5-1mm error.
Nail Art Brushes' Maintenance General Knowledge:
1. The painting brushes can be cleaned with water immediately after painting with water-based pigment, but if it is long time hardening water-based pigment or oil color, then you must use brush cleaner to make it clean.
2. Washing the brushes with special makeup cleaner, then sucking water by dry towel.
3. Shaping the brushes hair into an ideal form, put it flat on the shade and air drying.
4. Don't dry it with blow dryer, avoid pulling and cutting brushes hair.
5. It wouldn't affect brushes usage if there is Slight depilation phenome.
NOTE: If you have any questions between your purchase or before your use, please be feel free to contact with us, we will reply you at first time! Thank you in advance! Wish you have a happy shopping!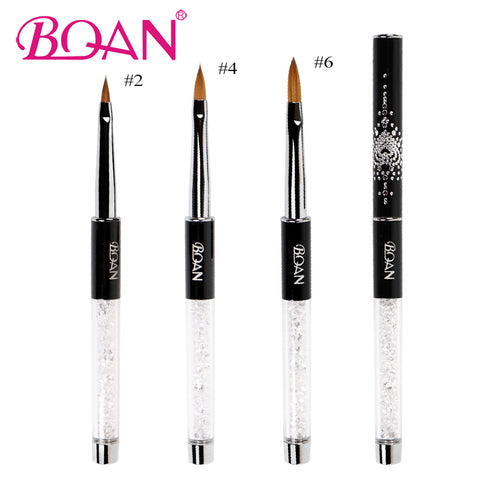 Q&A:
Q: How to keep the acrylic nail brush for longer use?
A: Make sure to clean the brush in time after use to prevent hardening. Do not rub back and forth vigorously when washing. After air dry, cap it with the clear cap on the brush head and put it back in the brush tube holder.
Q: Is it comfortable to hold it?
A: Yes. BQAN acrylic nail brush not only has a gorgeous appearance and also has an ergonomic handle, comfortable to hold, and is easy to operate.
Q: Can this acrylic nail brush be used for builder nail gels?
A: No, they are two kinds of different nail brushes. Acrylic nail brushes are only used for acrylic powder.
Q: What can this pretty nail brush do?
A: You can use these acrylic brushes to do acrylic application, like nail extension, nail carving with acrylic liquid and acrylic powder. The nail brush can lift a smaller bead of acrylic (powder with liquid) effectively and get your ratio of liquid to powder correctly with more control.
Q:Do you offer customisation? 
A:We can and love collaborating with brands to create designs tailored to them! If you're interested in working together for your next campaign of product line-up, drop us a note at bqanshaosai@gmail.com and we'll be in touch!
Q:Do you do wholesale?
A:Yes, we do! Please get in touch with us at bqanshaosai@gmail.com for more information.
Purchase 150pcs already on it or need to customize it to get a discount.Please contact: WhatsApp +86 13397092095
Weclome to Contacting us BQAN!
Please add bqanshaosai@gmail.com(Email) or +86 13397092095(Whatsapp)to your Contacts list to make sure our response gets through to you.

PLEASE check your spam…we write back to every email we get but have no control over your spam folders and can often end up there.
Once you submit your request – we will be in touch within 24-48 hours during normal business hours (M-F).

Our trustworthy online sales team, you can contact them directly if you need them, they will provide you with a variety of options, communication, order, production, guarantee, and timely service for you!